Siegfried (trilogie) - Alex Alice
Bon, là encore c'est un gros coup de cœur. En même temps, je n'allais pas commencer ce blog par parler de bouquins que je n'aime pas ou qui m'indiffèrent, n'est-ce pas ? (ça viendra, mais pas tout de suite...)
Non, là je parle d'une grosse claque en découvrant cette BD à la médiathèque.
Je ne connaissais pas Alex Alice avant Siegfried, je n'avais pas lu son Troisième testament (qui ne m'a pas plus emballé que cela, après coup).
Siegfried, c'est la mise en BD de la tétralogie de Wagner, opéra-fleuve s'il en est.
L'histoire : Siegfried est le fils d'une Walkyrie rebelle et d'un mortel. Recueilli par Mime, le Nibelung, après la mort de ses parents (fabuleuse scène d'ouverture), Siegfried vit et grandit hors du monde, ignorant de la loi d'Odin, de son ascendance et des desseins cachés de Mime. Écrasé par la médiocrité de celui ci et ne trouvant pas sa place dans ce monde sans humains, Siegfried ignore que son existence fait l'enjeu de l'affrontement inéluctable entre Odin et Fafnir, le Nibelung devenu dragon depuis qu'il a dérobé l'Or, symbole ultime du pouvoir. D'autant plus qu'une autre des Walkyrie a désobéi à Odin et semble devenue incontrôlable...
Avec Siegfried, on perçoit ce que Tolkien a emprunté au livret de Wagner...
Siegfried c'est l'histoire de la lutte des fils et des filles contre les pères, c'est aussi l'histoire du monde avant le monde des hommes.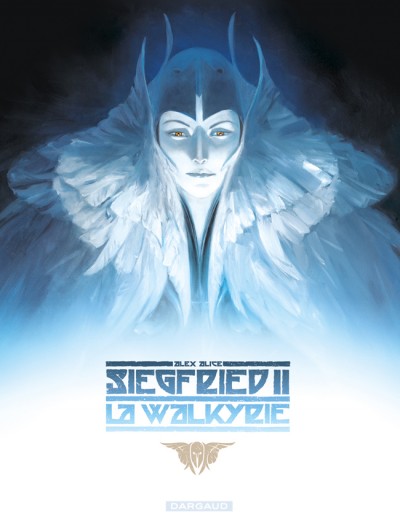 Mais c'est surtout un souffle épique, une histoire qui mobilise toutes les potentialités du médium BD pour raconter une histoire non linéaire. Aux Utopiales, Hal Duncan à qui je racontais à quel point son Vélum me résistait, me répondit "think of the third dimension of time", pense à la troisième dimension du temps. Oui, oui, oui... Sauf que là, j'ai compris.
Nous pensons toujours le temps selon une flèche, une direction, un déroulement, qui, dans le cas de la BD se déroule le long des cases. Alex Alice, pour sa part, compose un temps mythique, un temps qui fut, qui est et qui sera. Les flash backs, les histoires enchassés, les effets de simultanéité, sont extraordinairement
gérés dans des planches qui nous imposent de revisiter constamment ce que nous venons de lire.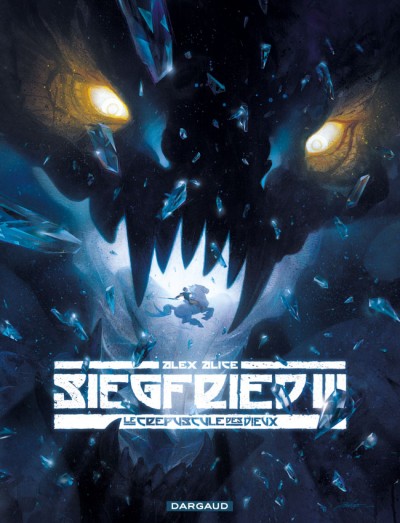 Alors, bien sûr, il y a quelques petits défauts comme les visages un peu disneyens à mon goût ou encore les incises humoristiques de la confrontation entre l'irascible (et sommet de mauvaise foi) Mime et le silencieux Grane, destrier de la Walkyrie rebelle, rallié à Siegfried. Cela n'apporte pas grand'chose à une histoire dont le tragique est la plus grande force.
Mais à côté de cela, quel souffle, quelle puissance, il faut voir le soleil se lever, alors que cela signifie pour Odin, la mort de sa Walkyrie préférée, de sa fille rebelle et adorée, il faut voir Mime raconter en une page la transformation de Fafnir en un dragon après avoir ingéré l'Or, il faut voir la Walkyrie aller au devant de son inéluctable et fatal destin... Si les morceaux de bravoure du dessinateur se succèdent sans temps mort, la BD fait aussi la part belle à des fulgurances poétiques (la petite fille, passeuse sur le ponts des morts, la vision nocturne du jeune Siegfried...). Il faudrait citer presque toutes les pages.
Pour ceux qui veulent en savoir plus : voir ici et là les sites de l'éditeur.
Pour ceux qui veulent suivre le travail d'Alex Alice, son blog.
Enfin, Alex Alice a le projet de développer Siegfried en film d'animation :
Que dire d'autre ? Que, pour une fois, les éditions spéciales justifient leur prix : jusque 80 pages en plus par rapport à l'édition simple, avec des interviews d'Alex Alice, de nombreuses reproductions des essais, des sources d'inspiration etc. Et puis ce sont de très beaux objets... Le tome un est épuisé depuis longtemps, le tome trois l'a été en une semaine, ne reste que le tome deux.
À qui l'offrir ?
- à soi d'abord en édition spéciale, même si cela coute un peu cher (on trouve le tome 1 de temps en temps sur les sites d'occasions) ;
- aux fans de l'opéra de Wagner ;
- sinon peut-être attendre Noël 2012, l'intégrale de la trilogie en simple sera surement disponible...
- aux gens qu'on aime bien...
Pour prolonger la lecture
Si vous avez aimé Siegfried, vous aimerez peut-être :
La série Thorgal, pour la lutte d'un homme face à son destin, contre l'égoïsme et la cruauté des dieux, dans une formidable saga épique. Si parfois, les auteurs ont tiré à la ligne dans des albums dispensables, les dix-huit premiers tomes sont tout simplement incontournables, ce qui n'est pas rien.