Néandertal (3 tomes) - Emmanuel Roudier
L'histoire : Laghou est un tailleur de pierre méritant au sein de son petit groupe. Mais il n'a aucun prestige, car, boiteux, il dépend des chasseurs. Or, le père est blessé à mort par Longuebarbe, le grand bison. Sur son lit de mort le père fait jurer à tous ses fils de le venger et de tuer le bison. Au grand dam des trois frères chasseurs, Laghou, lui, le quatrième, ne comptant pour rien. Il part donc seul venger l'esprit de son père, accompagné du rire méprisant du reste de la tribu. Pendant ce temps, les trois frères de Laghou montent un double piège : contre le bison et surtout contre les autres chasseurs, réticents à leur prise de pouvoir au sein du clan. Caché, Laghou assiste aux meurtres perpétrés par ses frères. Il doit alors fuir, fuir ses frères qui n'attendent qu'une occasion pour le tuer, et partir à la recherche du cristal de chasse, la pierre la plus dure et la plus coupante. Celle dont la puissance permettra de terrasser, enfin, Longuebarbe. Mais le chemin sera long...
À quelques exceptions près (Rahan), le genre préhistorique est peu prisé de la BD. Ici, Emmanuel Roudier propose une aventure humaine passionnante, montée comme un polar. Obligé de fuir dans une nature hostile, Laghou rencontre plusieurs tribus et va se lier d'amitié avec plusieurs membres de chaque tribu, voire d'amour... Venu en quête d'un cristal de roche auprès d'une tribu inconnue, il n'est pas tué car il en a sauvé un membre risquant d'être dévoré par les loups. Mais sa demande est exorbitante. En revanche, s'il aide Mana à rapporter le breuvage de vie pour guérir d'une maladie qui ronge le corps, alors, peut-être, pourra-t-il obtenir un cristal de chasse...
Avec une construction en histoires enchâssées, Laghou n'est pas au bout de ses peines : il manquera d'être dévoré par les cannibales, tué par diverses tribus... La vie du néandertalien moyen est pleine de dangers au quotidien !
L'aventure est menée tambour battant et permet à Laghou de se transformer progressivement, de quitter son statut de quasi-paria, de dépasser son handicap, prendre confiance en lui et devenir un grand guerrier. Son épopée fera de lui un chef de meute, un homme relié aux autres par les liens du savoir et du respect réciproque et non par la force brute et la domination.
Et c'est peut-être la limite de cette trilogie : sa dimension téléologique, tout y fait sens dans une perspective évolutionniste. Il aide une louve alors qu'elle est grosse, l'attachement de la louve fait signe de la domestication du loup et de l'apparition du chien. Laghou est faible et empathique, il agrège "naturellement" autour de lui les meilleurs, justement trop naturellement. Il décide, à la fin de son aventure, d'instaurer une rencontre entre toutes les tribus pour partager les savoirs réciproquement comme il a vu le faire par une tribu de femmes qui donna le secret du breuvage de longue vie, au risque de dilapider sa seule richesse.
Bon, je suis un peu cynique, mais les héros trop positifs (faibles, gentils qui attirent spontanément les autres, les forts en particulier, sauf les forts-méchants, car il faut bien qu'il y ait une histoire) ont un petit côté "mièvre", et surtout je n'y crois pas.
Mais bon, ce n'est pas rédhibitoire, cela ne gâche pas le plaisir d'une histoire qui se lit d'une traite. Le graphisme ne me plait pas plus que cela, surtout dans le dessin des personnages, mais en même temps, il est pertinent et juste, du fait de ces néandertaliens si loin, si proches de nous. Enfin Emmanuel Roudier a la très bonne idée d'utiliser un langage naturel et non pseudo-préhistorique.
Une très agréable lecture et surtout une très bonne histoire.
à

qui l'offrir ?
- à un préhistomaniaque ;
- à un ado, pas très en confiance, ni à l'aise.
Pour prolonger la lecture :
Si vous avez aimé cette trilogie, vous aimerez peut-être :
- les autres ouvrages d'Emmanuel Roudier : la série Vo'houna que je n'ai pas lu. Son blog, ici.
- dans le registre (pré)histoire de rire : Silex and the city de Jul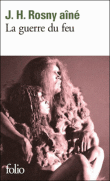 - La guerre du feu de Rosny : ça se lit toujours très bien.
- d'autres ouvrages sur la préhistoire en en regardant le menu "c'est quoi" dans la colonne droite de ce blog